Learn Spanish Books
Childrens Spanish Books
In Spanish! Our Favorite Books

Spanish Books: Let's Go Up! Climbing Machu Picchu, Huayna Picchu and Putucusi
Discover Inside:
A Photographic Journey-Inspiring a love of nature in the magical cloud forest of the Andes
Putucusi and Huayna Picchu-Two unique climbs with remarkable views of Machu Picchu
Trekking Expectations-Images of ladders, a tunnel, and cliffs encountered in the climbs
Product Description
Let's Go Up! takes the reader on a photographic journey, climbing up Huayna Picchu and Putucusi, two mountains overlooking the mystical Inca ruins of Machu Picchu. Towering ladders, a steep tunnel, unique wildlife, and the magical surrounding scenery will surely excite children and inspire exploration, travel, and a love of nature. This bilingual book can be enjoyed across cultures. It could also supplement instruction to enrich the learning experience of English and Spanish students. Machu Picchu became one of the New Seven Wonders of the World on July 7, 2007 and attracts travelers from around the world. Let's Go Up! presents a fascinating viewpoint of Machu Picchu from the surrounding Andes Mountains in Peru.
---
See also: Baby & Toddler Spanish Books
---

Everyday Words in Spanish Sticker Book
about 9x12 inches

This sticker book has over 200 stickers and is a great resource for those learning their first Spanish words. Pre-readers can enjoy spotting and naming familiar things. Matching the words on the pages to the stickers is great fun and encourages active learning! Illustrated with photographs of Jo Litchfield's charming hand-made models.
---
Primera Palabras in Ingles
Hardcover
Spanish Books: Primera Palabras En Ingles
9 x 12 inches

While we have many books in Spanish, we also include this one to help learn English. This book includes more than 500 words to help teach your child English. Numbers, shapes, people, how to pronouce words and much more!
---
Spanish Books: First Thousand Words in Spanish
This bright and amusing book provides a wealth of vocabulary-building opportunities for beginner Spanish learners of all ages. Stephen Cartwright's delightful pictures encourage direct association of the Spanish word with the object, which will ensure effective long-term learning. You can now find out how to pronounce every Spanish word in this book by listening to a native Spanish speaker on the Usborne Quicklinks Web site. At the end of the book there is an alphabetical Spanish/English list of all the words in the book.
---

Spanish Books: Vaya Olor and Vaya Lio
Hardcovers, 8.5 x 8.5 inches

Vaya Olor
We're excited to offer this book for beginning readers to learn Spanish! We looked hard to find books in Spanish that would be a follow on to the "point and identify the image or color" (such as apple is manzanna) to transition into simple Spanish text for early learners regardless of age.


---
Vaya Lio
Very simple text makes it easy for your child to learn the similar words and beginn to learn spanish grammar from page to page. Fold out sections (such as doors and curtains) make it fun to see who is making what smell or what mess. Repetitive words make beginning reading Spanish fun!


---
Also see:

Spanish Baby Book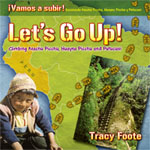 English to Spanish Translation Books Bilingual books.