Christmas Craft for Kids
Christmas Craft Book
50 Christmas Things to Make and Do
This inspiring book is bursting with fun, festive ideas for things to make and do in the weeks before Christmas.




---

Christmas Fairy Things to Make and Do
Christmas craft for kids: In this enchanting book, you will find a variety of Christmas craft for kids. Kids will discover lots of magical fairy things to make in the weeks leading up to Christmas. Kids can make a dazzling crown, a star wand and glittering fairy wings, then transform your home into a Christmas fairyland with lots of glittery decorations. A favorite Christmas craft for kids is the delightful fairy Christmas cards. The simple steps are clearly illustrated and easy to follow, and there are shiny silver stickers in the middle pages for decorating all the fairy things the kids will make.


---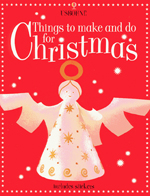 Christmas Craft Book: Things to Make and Do for Christmas
Christmas craft for kids: This wonderful book is full of many different Christmas craft for kids to make using materials you already have in your house. It also includes 2 pages of stickers that can be used in decorating. You can make bread ornaments, pop out cards, paper decorations, wrapping paper, snowman paperchains, stocking ornaments, an advent calendar, and much much more.
This great activity book will keep excited children happily occupied during the weeks before Christmas. By following the really simple step-by-step instructions, even young children will produce some amazing results. Imaginative ideas for cards, decorations and wrapping paper are among the festive projects included. This book also contains over 50 stickers to use with the projects, and on homemade cards and gift tags.




---

20 Christmas Cards to Make
Christmas craft for kids: Color the Christmas cards and send them to friends and family. They will have a delightful surprise waiting when the card pops up for them when they take it from the colored envelope.




---
Also see:


Christmas Activity Book Christmas activities to make and do.


Kid Christmas Recipe Simple Christmas cooking recipes.

Christmas Jigsaw Puzzles Christmas puzzle books for kids.

Childrens Christmas Books Christmas books from touchy feely through the classic, A Christmas Carol