y
Fairy Books
Fairy Story Book
Fairy Books: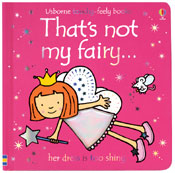 That's Not My Fairy
Hardcover

"That's not my fairy, her wings are too...." and so on. Your child will love reading this textured fairy story book, turning pages of bright fairies and feeling the different textures. This is a very popular book with children of all ages. At my book fairs, often the children gather round the fairy books and I even have 10 year olds going through the pages. No one can resist seeing how the fairy books feel! And as you repeatedly read this book, your child may eventually memorize the story and begin word recognition as well!
Ages: 9 months and up
Fairy story book size: 6 1/2 x 6 1/2 inches
Pages in book: 10
---
Fairy Books:

1001 Fairy Things to Spot book
hardcover

One of our most popular fairy books is 1001 Things to Spot in Fairy Land. This fairy story book has a puffy washable cover with lots of sparkles! Discover the magic of fairyland in this enchanting picture book, which will provide hours of puzzle-solving fun. Search for pretty flower fairies in a secret garden, look for frog princes at fairy school and see if you can find bluebirds flying somewhere over the rainbow. Some would think their cannot be 1001 things to spot in this fairy story book but how about "goblets of fairy punch", "elves diving for jewels" or "fairy hammers" (a hammer with wings). Each page has a border with all the items you need to find on the page. (Need to make a quiet phone call? - hand your child this fairy story book!)
Ages: 6 years and up
Fairy story book size: 9 1/8 x 10 5/8 inches
Pages: 32
---
Fairy Books:

Fairies Touchy Feely Book - OUT OF STOCK
Come and visit the magical world of fairies, as they sprinkle flowers with fairy dust, paint rainbows across the sky and light up the stars at night. This is a higher level of touchy feely fairy story book with different textures on a page so you can compare with your child the differences between textures.
Ages: 9 months & up
Fairy story book size: 8 1/2 x 8 1/2 inches
Pages: 10
---
Also see:


Fairy Crafts
books and recipes for fairy things to make and do.


Tooth Fairy Box for under your child's pillow.

Butterfly Towel Any little girl who fancies tooth fairy boxes and fairies themselves is going to love flapping around in our hooded butterfly towel!

Fairy Recipe

Butterfly Books