Young Entrepreneurs
Kid Entrepreneurs - Child Entrepreneurs
Real Life Examples: How to be a Successful Entrepreneur
Are you a student with your own business? Do you have a success story? Do you need links to your website? Use our company contact to tell us your story and we will try to add your business to our site. We know those small businesses starting out, especially young entrepreneurs who are juggling studying, their social life and their work, need a helping hand. Tell us your entrepreneur story!
---
Successful Job Ideas made by young entrepreneurs:
Kelsey's Kids A toy helps seriously ill children.
Jacqueline's Designs Putting your passion to work! An online busniess begun by a 13yr old entrepreneur.
Hannahs Socks Warm hearts and warm feet
EMS Disc Jockey Services Disc Jockey Eric Smith, Fort Wayne Indiana.
M3 Girl DesignsMaddie Bradshaw and her Snap Caps in Texas.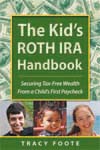 All young entrepreneurs need to be thinking long term. Where will a young entrepreneur go with an idea? Where will a young entrepreneur be in 20 years? Where will a child entrerpreneur be when he or she retires?
While it seems a long way off, kid entrepreneurs should also be researching the Roth IRA:
---