George Bush Christmas Ornament Election 2000
|
George Bush Christmas Ornament
Decision 2000 Bush vs Gore Election Ornament
Too Close to Call Ornament
Gift Box Included.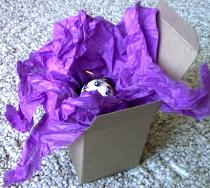 George Bush Christmas Ornament Remembers History…


BUSH vs GORE
Remember history with this memorable political George Bush christmas ornament.
This was the first ornament that began our series of remembrance ornaments concerning significant events that occur each year.
We were so suprised when the ornament was pictured in
TIME Magazine Dec. 4, 2000 pg. 25.
We suspect they found us searching through all the President George Bush memorabilia that was currently on eBay at the time!
This is made on a real egg that you would buy from the store. After decorating we coat it in clear coat to help preserve the ornament.
The Too Close To Call George Bush Christmas ornament includes:
Side 1: Al Gore and George W Bush: separated by "Decision 2000".
Side 2: the state of Florida and "Too Close to call".
The metalic thread and beads add a christmas touch. Very light weight, handmade hollow egg ornament!
Sample hand-made ornament: Bead colors, string and exact positions of images may vary slightly.