Baby Hooded Towel
Hooded Baby Bath Towel
Duck Hooded Towel
See our variety of Baby Hooded Towel designs below.
Handmade High Quality 100% cotton terrycloth baby hooded towel animals!
Our yellow duck hooded towel comes with big wide eyes to bring giggles to your child. After bath time, "Quack, quack" will be heard from beneath the beak as your child snuggles into our warm terry cloth baby hooded towel and ventures into the land of pretend.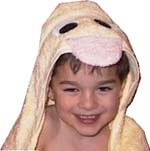 Our Duck Baby Hooded Towel is great for
the bath
the beach
the pool
the boat
baby shower gift
---
Small Duck Baby Hooded Towel:
Small 24" x 24"

This size duck towel is recommended for an infant baby from birth up to 18 months old
---
Large Duck Towel:
Large 27" x 52"

This size duck hooded towel is recommended for toddlers (walking children) and kids up to 10 years old. The towel itself is an adult size bath towel, so there is plenty of towel to dry off on. We have had life guards purchase them for fun to use at the beach or pool!
---


Toddler Hooded Towel - Green or Lavender or Blue Dragon Towels with Spikes!