Shark Gifts
Shark Gifts for Boys or Girls
Shark Gifts for Preschool through Lower Elementary: Shark Gifts for Ages 3-10yrs
We have some great shark gifts for boys or girls! Choose our hooded towel along with any of the books (shipped from our sister site).
---
Our shark hooded towel is great for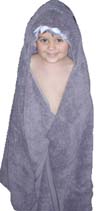 the bath
the beach
the pool
the boat
baby shower gift
Large Hooded Shark Towel: 27" x 52"

This size shark towel is recommended for toddlers (walking children) and kids up to 10 years old. However, the towel itself is an adult size bath towel, so there is plenty of towel to dry off on. We have had life guards purchase them for fun to use at the beach or pool!
---
Shark Books - Ship from our sister site
Shark in the Park

Created in consultation with a language expert, this book is part of an engaging new phonics-based series, especially written to help your child learn to read. Not only is the story great fun, it also takes into account recent research on the most effective ways of teaching reading. Stephen Cartwright's delightful illustrations complement the text and are designed to stimulate further interest. Fold out pages add to the enjoyment.
---

Sharks Internet Linked Book
Softcover book

Boys and girls will find sharks of all different shapes and sizes, some as small as your hand, others bigger than buses. Find out what drives them into feeding frenzies, how sharks look when they are about to attack, and how sharks can "feel" fish swimming nearby. Dramatic underwater photography brings boys and girls face to face with these incredible creatures, while lively illustrations provide an insight into their habits. This book is great even starting as young as age 3 because a toddler can say, "cool shark", then as boys and girls begin to read, they can read the details of the book. And later, when they need to do a school report, parents once again get full use of the book through the internet links. There are internet links to child friendly sites (that the publisher keeps up to date) and you can read so much more about sharks. There is plenty of information for a school report!
---

First Encyclopedia of Seas and Oceans How deep is the ocean? Which fish can blow itself up like a balloon? How do dolphins use sound to hunt? Find out in this delightful book. Simple text, stunning illustrations and photographs and exciting recommended Web sites introduce young readers fond of sharks, to the wonders of the sea.
---

On the Beach
Lift the flaps in this book to uncover fascinating seashore sights.
Shark fans learn more about the beach in this wonderful flap book! Boys and girls will come across beautiful fish, birds, boats, a lighthouse... and find tiny creatures hidden in the sand and rocks.
---

The Great Undersea Search
From giant octopuses and great white sharks, to deep sea divers and treasure troves, there are aroung 100 things to spot on every double page of this book. Each beautifully illustrated puzzle picture shows a different underwater scene, including the magical world of the coral reef, the spooky ocean depths, a sunken pirate ship and many more. This book provides countless hours of puzzle-solving fun, and is full of fascinating facts about life under the oceans.
---