Mompack Small Business Free Promotion
Promotional Packs
Distribute your promotional materials for FREE!
watch LEADS — TRAFFIC — SALES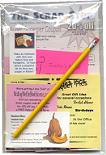 see url First – What are Promotional Packs?
Here's how it works:
Mompackers (mostly Work-at-home Moms) accept your business cards, flyers, pens, pencils, notepads, samples marked with your contact information or anything else promoting your business. In exchange, you accept their promo information or sample to distribute to your customers or contacts.
These are placed in clear bags or stapled nicely (for lighter weight orders) and called a Mom Pack. (originally started by Moms with Home Businesses.) Samples, Coupons and Special Deals are preferred but not required.
Mom Packs are distributed to potential customers. Here are some examples of where Mompackers might distribute your business card, flyer, or sample:
Internet orders
Family Support Center on a military air base
Moms and Tots Groups
Day Care Providers
Chamber of Commerce Members

Swap quantities are usually 10–200 items at a time. Most Mompackers are looking for only Family Friendly items that fit in a 6×9 envelope.
http://amps.sdsu.edu/wp-content/?faq=free-essay-term-papers&an=6 What will it cost you?
It's free ~ except for your postage costs to mail your item to other Mompackers. You accept flyers or business cards in return to distribute as you see fit. (Business cards can be on a counter too. You do not have to create packs.)
college admissions essay prompt Who can you swap with?
http://amps.sdsu.edu/wp-content/?faq=hiring-writer&an=6 Find Mompackers
Swap Tips
Easy Internet Promotion
How do you get someone to accept and distribute the promotional packs you create?
Many have asked:
How do you get others (chambers, military bases, daycares etc) to take and distribute packs (promotional materials from moms)
In short, the best strategy is to say you are promoting a national group – not necessarily your specific business.
Mompack Sticker
63 small mompack stickers

sticker on manila envelope
citizenship essay ideas Mompack One inch sticker
These are one inch glossy circle stickers with your company name and the girl logo.
Please use the comments block when checking out to write your company name.
The stickers are VERY small. We do not suggest using these for long company names.
Share this with your friends
About The Author
tracytrends