Teaching Kids About Money
Teach Kids Money
Teaching Your Kids About Money
From the author of The Kid's ROTH IRA Handbook

When my child was in 5th grade she came home with an assignment to write a letter asking her parents to pay her for tasks done around the house.

"Hmmm... Sounds like an interesting assignment but you're not getting paid for it," I answered half annoyed that a teacher dare suggest that I start paying my kids, but also impressed that someone had finally assigned something to do with money.

Next, she came home with, "I have to research what college I will go to, what work I will do, and what car I will buy. I'm going to Harvard and I will be an author."

"Hmmm... You might need an additional job as well -- to pay off that school loan," I grinned as I had some knowledge of author salaries.

Weeks later she enthusiastically told me, "Mom, you need to get an IRA."

Ok, that was the last straw! Who's been talking to my daughter?

I've told this story to many friends except, I usually begin, with, "My 5th grader told me I needed an IRA!" I watch their jaw drop that a 5th grader is even thinking about finances, "How does she know about that?"

"Thank her English teacher," I reply. (Yep, it wasn't even a math class assignment!)

Well this class of my daughter's was a rare case! While we all expect our children to be financially responsible, there is no class for it in the younger school grades. Did you know some colleges do not even require an economics or accounting class to graduate? We hear a lot about our literacy rate across the nation but how about our financial literacy? How would the nation change if every child had a Roth IRA?

Being self-employed as a self-published author, I was already very familiar with taxes as well as the requirement for "earned income" to contribute to a Roth IRA. In my networking groups, I heard members speak of hiring their children, which lead to my taking the dive into the IRS Publications to learn how establishing a Roth IRA for kids was legally accomplished. The result was the answers to three major questions:
Can small jobs count as earned income for the purpose of contributing to a Roth IRA for kids?
What are the requirements for a self-employed parent to hire their child?
What are the requirements for parents to make their kids "household employees"?
While these are all addressed in the book, the real lesson of the book is to begin to inspire children to save at a very young age and teach the benefits of compounding interest in a tax free account such as a Roth IRA for kids. Certainly we do not want to take "being a child" away from children. But if they already show interest in finances and we are allowing them to earn spending money, we have a responsibility to teach them what to do with... at least part of their earned money.
Teachers and Parents Can Start Early to Teach Kids about Money
When teaching kids about money, the main goal should be for a well rounded child who understands money has value, is limited, flows throughout our economy and each person has a responsibility to manage it effectively.
When teaching kids about money, set a goal to cover these three principals:
Saving
Donating to Charity
Spending in a responsible manner
We have explored many possible books, games, allowance ideas, and so forth to use when teaching kids about money. While we separate most areas by age, it is important to realized each child progresses at a different pace so when teaching, do explore one level above and below your child's age.
Social Experiences when Teaching Kids Money
One should also realize when teaching kids about money, that social factors play a huge role. A child who comes from an affluent family might have a very different opinion about the effort required to pick up a penny than a child who has been through divorce and raised by a single parent.
Personality when Teaching Kids Money
Personality also plays a role when teaching kids about money. One family can have three children, the first spends the money as fast as it is received, the second might save every penny and get emotional about removing the money from a savings account and the third might save yet be the first to donate to charity. If you are teaching money to more than one child, do not expect each to have the same reactions and habits.
Compound Interest, Rate of Return and Other Money Calculators
Rate of Return Enter the amount you contributed over several years, the current value now, and click for an estimate of your portfolio's rate of return.
Compound Interest Calculator simple compound interest calculator: see what regular savings will add up to over a number of years at a given rate
Compound Interest Calculator simple compound interest calculator: enter three knowns and click to receive the 4th unknown. This cCalculator for present value, future value, number of years, and interest rate works well for depositing a flat amount with no reoccurring savings or withdrawals
Four Books - Recommended Reading when Teaching Kids Money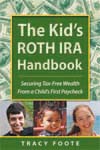 The Kid's Roth IRA Handbook
This book covers some very basic ideas but quickly moves into complex issues, including some basic taxes. We should not presume children will not look at a tax publication but instead be optimistic and provide them with the opportunity and incentive to do so. Children learn quickly, enjoy challenges and think computers are fun. With the pace in which the appeal of the internet is growing each day, it is reasonable to direct kids to use internet links and online calculators to project their finances. As parents, we should assist them, guide them, teach them, and set a good example through our own financial behavior. I recommend using this book as an interactive guide between parents and children.
---
Teach Kid Money Management:


Growing Money: A Complete Investing Guide for Kids
From School Library Journal: Grade 4-8: A clear explanation of the theory behind investing and compound interest. Related terms are introduced and defined throughout the volume and anecdotes citing companies familiar to children (e.g., Kellogg's, IBM, Coca-Cola) often illustrate principles. One chapter is devoted to deciphering a financial page in a newspaper. Sample forms illustrate how to record income, withdrawals, and savings, and quizzes measure knowledge and risk tolerance. Black-and-white cartoons and several charts accompany the text.


---
Teach Kid Money Management:


The Young Investor
From School Library Journal: Grades 6-9--Starting with homey stories and personal examples, Bateman demonstrates how to learn about investments from everyday experiences. Using current examples such as CD boom boxes but without fancy graphics, she explains the "money circle," an excellent way to characterize the circulation of wealth; mentions bank accounts; and then provides a concise summary of savings vehicles, including an account of the "magic" of compound interest, illustrated by a table and a story of a successful young investor. As Bateman covers broader and deeper topics such as risk-tolerance, stock reports, and macroeconomics, she follows the same pattern in each chapter. Constantly referring to points made earlier, the author provides plenty of opportunity for review and concludes each chapter with another account of the young investor's story-he ends up with his own land and hopes for a house on it.


---
Teach Kid Money Management: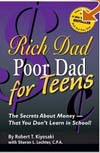 Rich Dad, Poor Dad for Teens
From School Library Journal: Grade 6 Up. Kiyosaki, a bestselling author for adults, has specifically targeted teens in his attempt to promote his philosophy. What makes this book unique is his approach to how he thinks about accumulating wealth and about having money work for the earner. "Poor Dad" accepts the notion that he will never be rich and thinks that "money doesn't matter." "Rich Dad" thinks that "money is power." Teens are encouraged to be creative in developing ways to earn cash and to limit spending. A chapter on identifying individual strengths and learning styles while developing a financial IQ on the path to financial freedom is a lesson for any age. Sidebars and quizzes promote individual ideas and concepts. Teens will be attracted by the notion of playing games to learn more about acquiring assets and managing money. The glossary clearly explains financial terms.