Arabic Book
Beginning Arabic Book for Child or Adult
First Thousand, 1000 Words in Arabic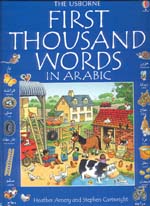 Larger View
about 8.5 X 11 inches; 64 pages
Hardcover




First 1000 Words in Arabic


First Thousand Words In Arabic is a great book for children or adults beginning arabic.

One unique difference is this Arabic book contains both the arabic writing and the pronunciation for the Arabic word is written in English. Many language books have the English word written as it is pronounced in English. Instead the child or adult reader is forced to see the word as it is pronounced in Arabic which greatly assists in learning Arabic.

Example:
the Arabic book has a picture of a strawberry, the word written in arabic characters, and also, in English it says "farawla". It does NOT say "strawberry".

On each page is a double spread picture. The frame of the picture book has single items with the Arabic word underneath. In addition to learning the language, children can have fun finding the object (such as a strawberry) in the picture.
This bright and amusing book provides a perfect starting point for beginners of all ages to learn Arabic. Panoramic pictures of everyday scenes are surrounded by small pictures with their names in Arabic. Each Arabic word is also written in Roman letters to show you how to pronounce it. The association of the words and pictures provides a simple and effective way to learn new vocabulary, while the panoramic scenes provide opportunities for talking about the pictures and forming simple sentences. At the back of the book there is a guide to the Arabic alphabet and a list of all the Arabic words with their pronunciation guides and meanings in English. With delightful pictures by Stephen Cartwright, this is a fun and engaging way to learn a new language.
These delightful picture-word books make it easy for young readers to learn new words. Listen to all the words on the Web site listed in the book. Lots of opportunities for conversation practice


Customers Say: this is very helpful when learning the arabic language because I did not want my son seeing the word in English. In many ways this Arabic book forces him to learn Arabic. I also use it to expand my own vocabulary.