While there are many good books about adoption and adoption is widely accepted in today's society, there are only a select few good books on reproductive assistance. We hope through an In Vitro Fertilization story, IVF will someday be as accepted as widely as adoption. Hopefully children will feel they belong and are not the "different" child at school or in other environments. We hope these books will be read by children in all types of families to show that everyone belongs in their family.
---
IVF Story for Children

IVF Story for Children
Making Miracles by Mal Leicester & IVF Telling a Child
24 pages & 18 pages; about 5x7 inches (both booklets)
Two books about In Vitro Fertilization (IVF). Use the In Vitro Fertilization IVF story book to read with your child and the case study book to give you ideas about issues you could choose to address. Click for more information on these books Telling Children about IVF.
---
IVF Story Books for Children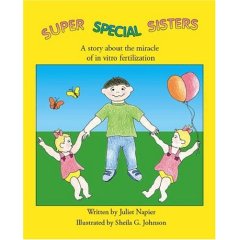 Super Special Sisters: A Story About the Miracle of In Vitro Fertilization
by Juliet Napier

Super Special Sisters: A IVF story About the Medical Miracle of In Vitro Fertilization is designed to present factual information to a child in a reassuring manner. This story would prove very useful in explaining what could be a difficult topic. This IVF story will touch the hearts of all families who have suffered from infertility or secondary infertility.
Click for more information on this IVF Book.
---
LINK TO US
If this page is useful to your customers, please link to it by copying the coding below. Thank you.

<a title="ivf story" href="http://www.tracytrends.com/books/ivf-story.html">IVF Story -</a> Explaining infertility to children.