IRA for Kids
Roth IRA for Kids
All the answers for your questions on how to start an IRA for kids, all in one place, at your finger tips.
The Kid's Roth IRA Handbook
Money Answers for Employed Children, Their Parents, the Self-Employed and Kid Entrepreneurs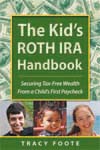 The Kid's Roth IRA Handbook:
Rated Best Books for Children and Teens by: Cleveland Public Library.
Recognized by the library's Youth Services Department's Celebrate With Books 2008 guide.
Chock full of IRA information for employed kids.
Everything parents and kids need to get started, including references to IRS Publications.
No more searching on the Internet and relying on opinions.
Stay straight with the IRS by using this book.
Front Cover (larger)
Back Cover
6x9 inches, paperback,
ISBN: 0-9708226-9-3
Table of Contents
Customer reviews
Why Start a Roth IRA for Kids?
Kids Can Borrow for College - You Can't Borrow to Retire! Open a Roth IRA for Kids~
Frequently Asked Questions
What age group is this book for?
The rules in The Kids Roth IRA Handbook can be applied to all working children, such as a baby model, babysitter, or cashier at a fast food restaurant. Children as young as 9 have read the book and they would need more assistance than a 12 or 16 year old. We recommend you plan to assist your child as needed to explain more complex areas of the book. The book is to be used as an interactive tool between parents and children. Parents should use the book to assist younger children.
How old do you have to be to contribute to a Roth IRA?
There is no age limit to contribute to a Roth IRA for kids.
Do kids have to have earned income to contribute to a Roth IRA?
Yes. Kids cannot use gift money. Sorry Grandma! Actually, everyone, including adults (or their spouse), must have earned income (or their spouse has earned income) to contribute to a Roth IRA.
Does my babysitting money count as earned income?
Absolutely and The Kids Roth IRA Handbook will provide references where you can verify this.
Can parents employ their kids in the parent's self-employed business?
Yes, you can and let The Kids Roth IRA Handbook give you the guidance on how to do it right. You must keep track of hours worked and issue a Form W-2.
Can parents employ their kids as a "household employee"?
Yes and The Kids Roth IRA Handbook shows you how!
Roth IRA for Minors - Turn Children into Millionaires
We started our sister site Kids and Money Today to bring you current news and information about family finances similiar to this video below.

Click here to Subscribe to Kids and Money Today news!

The video recommends using a dollar-for-dollar match when you create a Roth IRA for your minor child. This is especially good for young children who may be emotionally attached to their earnings.
This is a good idea: This teaches children the concept used by many employers' matching 401K plans.
The best idea is: Unless you have employed your child, you might try to avoid matching funds. This is closer to the reality of life and relatives rarely match our contributions.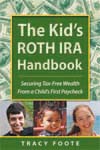 The Kids Roth IRA Handbook: Securing Tax Free Wealth from a Child's First Paycheck
Money Answers for:
employed children
their parents
the self-employed
entrepreneurs (both parent and child)
Today is the day ~ you should start an IRA for kids ~