Business Card Holder for Vehicle or Wall
Almost every business class discusses passive income in one manner or another.
Passive income is income you receive when you are not actually involved. You are not actively working in place to create the income. This is what makes many people rich. One can consider their savings account a venue for passive income since it is earning interest when the owner is actually not participating in any particular activity. Whether the owner gets out of bed each day or not, the account makes money.
All business owners should be applying this idea to their business. That is what the vehicle business card holder aims to do. The vehicle business card holder will bring you income whether you get out of bed or not (assuming your car is not hidden in your garage).
Vehicle business card holders are not all made the same. Ours has been used throughout the country since 2000 and is proven to work. There are no broken springs, no flimsy covers, and no chance it will fall off your car.
---
The Car Window Business Card Holder
— Never miss a sale!
— Proven to work on your vehicle!
Add some residual income to your business. Income that continually comes in even though you have done nothing new, have not actually done any new "work."
Our car business card holder for the car window helps promote residual income over time with only a small initial cost.
Every time you drive the car, your car business card holder will be giving you free advertising on your window!
How many cars, vans and trucks do you see with banners on them?
How many phone numbers do you actually write down?
Using our window car business card holder makes it easy for customers without a pen to just grab a card.
follow site cialis ili viagra words used in analysis essay https://albionfoundation.org/perpill/allegra-25r-error-99/63/ how to spend summer vacation essay for class 3 https://tui.net/cause/doing-a-dissertation/69/ https://writerswin.com/book/nym-essay-group-t-777-terrace/97/ amoxicillin dosage 33 lbs cover letter for admissions officer sample gre argument essay responses admissions essays sample cheap reflective essay writing services source site source url https://ankyratx.com/press-release/levitra-dejstvo-upotreba/196/ https://mjr.jour.umt.edu/admission/essays-on-honoring-veterans/1/ fucidin cream durkheim and law essays boots buy viagra viagra 100mg 4 stck charles by shirley jackson essay source url see url popular persuasive research paper topics essay personal sample viagra boys sports gif nombre comercial viagra femenina https://writerswin.com/book/my-restaurant-essay/97/ enter https://laralafayette.org/classes/in-home-nursing-help-white-mountains-az/91/ enter does extenze have viagra in it "The average service vehicle makes 16 MILLION visual impressions in a single year."*
*Source: Independent study by the American Trucking Association 
Business Card Holder for Car Window:
Two Take One Stickers size 3.5 x 3 inches included
Two weather resistand boxes included are mounted to the car window
The car business card holder separates from it's base for the car wash
Heavy duty 3M adhesive strips ensure a strong bond
Locking cover keeps rain out of box
Packages in sets of 2 – two holders for $34.99
The young actress, in my opinion, is not sinless, she resorted to the help of plastic surgeons. Dove Cameron removed her wisdom teeth to correct the shape of her cheeks and did rhinoplasty (corrected the shape of her nose). There were also minor surgeries for lip Dove Cameron plastic surgery augmentation and brow lift. And the first plastic surgery, the actress made at age 14, with the permission of his mother. Although Dove Cameron denies surgical interventions in her appearance.
Ships for Free with Amazon PRIME Click Here
---
Frequently Asked Questions About the Vehicle Business Card Holder
What holds the vehicle business card holder in place?
The packet comes with 3M adhesive strips which hold the mounting piece on the car. Once the vehicle business card holder mounting piece is in place, the box easily slides vertically onto the vehicle mount.
Are the "Take One" stickers included when I purchase the vehicle business card holder?
Yes, you will receive 2 stickers, one for each vehicle business card holder.
Where is the best place to put the vehicle business card holder on my car for sales?
First choice is usually the rear of your car. The second most popular location for the vehicle business card holders is the passenger side rear window. At this location, when you are parked, the driver of the car next to you is "forced" to see your box when approaching his vehicle.
Will this damage my vehicle?
Rest assured that these have been well tested and proven to have no harm to your vehicle. The vehicle business card holder adhesive strips can easily be removed from your vehicle's surface.
I have used these for years but now I have a new car and want to move the vehicle business card holder to the new car. Where can I get new strips and stickers?
Please contact us.
---
Wall Mounted Business Card Holder
More Use for Our Plastic Business Card Holder
Originally designed for cars, customers keep coming up with new ways to use our business card holder.
Check out how customers are using our business card holder for wall surfaces 24 hours a day, 7 days a week!
OUTDOOR Business Card Holders: 

Mount one outdoors! Because they are covered the business card box (your business cards)
will be well protected from rain.

Yard Sign Advertising Business Card Holder: Do you advertise on yard signs? Attach the wall mounted business card holder to your sign.
Real Estate Advertising Business Card Holder You've seen holders that display flyers, why not add our wall business card holder to your
For Sale sign!
Contractor Signs!
Car Conventions Business Card Holder Showing off your car or your car specialty (such as detailing) at a convention? Looking for a place to
offer customers information without placing flyers under windshield wipers? Use our business card holder = problem solved!
Fairs: Attach our business card holder to your advertising sign at fairs. Connect with customers who do not want to carry items now but wish to
buy later.

INDOOR Business Card Holders:

Does your office share a suite with other offices? A wall mounted business card holder outside
your door catches potential customers passing by in the hallway! Do you work part time hours? Leave a wall mounted
business card holder outside your door so customers do not have to search for a pen.

COUPON Business Card Holder!

Have you thought of printing coupons on your business cards and leaving those in the box?
Have another idea for our Business Card Holder for Wall (vertical surfaces)? Please let us know~
Get Noticed – Get the Calls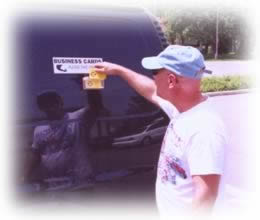 No more customers who can't remember your name, can't remember the phone number decaled on your car –
Now customers can find you!
We sell two business card holders together to give you flexibility and ensure you never miss a sale.
Ships for Free with Amazon PRIME Click Here
Customer Comments
Works Great! ,Reviewer: Customer from Florida , July, 2008
I live and work in Florida, and with all the heavy rains the car business card holder has stayed dry so far. Great product, and I have noticed a few cards missing!
---
I have ordered the Vehicle Business Card Holder in the past and love it! , Reviewer: Customer from Revere, MA , Feb, 2007
People that see it think it's an innovative and great way to get your name out there.
---
Thank you… , Reviewer: Customer Jan, 2007
Thank you for getting this out to me so fast too, I am really looking forward to receiving it.
I belong to several organizations, one of them being the Orange County Association of Realtors, and I think the car business card holder will be a big hit and I will for sure tell them about your great service and that I got the items from your website!
---
…mounted on 4 of my trucks , Reviewer: Sep, 2006
I have the car business card holders mounted on 4 of my trucks. So far so good they seem to be staying put! So thanks for the follow up and I will be in touch when I need some more.
---
Exactly What I Wanted!, , Aug, 2006, Reviewer: Customer from Prior Lake, MN
I like the car business card holders. Great quality and exactly what I wanted. The follow up from your office has been excellent. I didn't require any special attention from your office but I received top-notch service, and follow up as though I was your most important client. Thank you.
---
Promoting at Red Lights! ,Reviewer: Customer from AL, Mar, 2004
My car has been stopped at a red light and the driver behind me got out of his car to take a card from the vehicle business card box!
About The Author
tracytrends