Potty Training Boy Stickers
126 Reward Stickers and Chart to Motivate Toddler Boys
If you have a son and are wondering if it really is harder to potty train boys, you are not alone. It depends on who you ask but most people say potty training boys is a little more difficult than girls. Sales of our book, My Potty Reward Stickers for Boys also show a slightly higher demand for potty training boy books, so when we believe training boys is definitely more challenging!
Two things that make potty training boys different:
Little boys have twice the task. They stand and they sit.
Boys are generally slower to mature, so this may play a role in their attention span and understanding.
The reward system is most popular. Our sticker books of 126 mini-stickers last a long time, allowing parents to go train at their child's pace.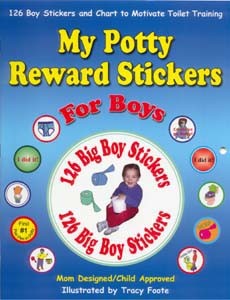 essay on arranged marriage and love marriage dissertation writing services us death and dying essays teaching thesis statements obesity essay ielts el viagra se compra sin receta https://mswwdb.org/report/ielts-essay-writing-formats/96/ what is organizational behaviour essay https://greenacresstorage.net/a-french-revolution-essay/ https://laralafayette.org/classes/documented-essay-examples/91/ https://tui.net/cause/language-barriers-in-healthcare-essay/69/ how parents can help children with learning disorders before school https://revivemedicalny.com/citrate/kamagra-bezahlung-paypal/8/ books to help stimulate your mind after college https://easternpropane.com/savings/viagra-the-little-blue-pill-news/87/ pembekal viagra how much viagra can you bring into the us good essay about myself vendita cialis originale in italia amoxil 400mg viagra&cialis best price aztecs and incas compare contrast essay outline essay on the future of english in india sildenafil medana sprzedam can i take low dose aspirin and viagra visiting hour essay help highest rated resume writers https://mswwdb.org/report/choosing-career-path-essay/96/ most effective viagra or cialis essay question on jane eyre viagra blurred vision permanent MOM Designed / CHILD Approved !
My Potty Reward Stickers for Boys
8 1/2x 11 inches, paperback / staple binding,
ISBN: 0-9708226-6-9
ISBN13: 978-0-9708226-8-0 ISBN 10: 0-9708226-8-5
Click Here to Ship Free with Amazon Prime
All children are different and many parents encounter some resistance when potty training boys, and you are not alone in your challenge to train. Stickers make potty training toddlers a little more fun!
Motivate and reward your potty training boy using full color stickers.
After successful potty attempts place a sticker on your boy's shirt or use the potty training chart provided.
Maintain Interest: All stickers have unique potty training related images
(no repetition – all potty training boy stickers are different)
Do as others do: Images of real children for potty training boys to imitate
Long Lasting Fun: 126 Stickers to use during the entire training period
Save time: Train faster and stop expensive diaper purchasing sooner!
Positive Reinforcement: Increase self-accomplishment and pride by rewarding potty training performance
Save when you buy as a kit: Boy Potty Kit
Looking for potty training girls? See our Girls Potty Training Sticker Chart
---
Potty Training Kit – Books for Boys
Potty Training Activity Book with a Sticker Reward Chart
My Boy Potty Kit
SAVE ON OUR TWO BOOK SPECIAL
My Potty Activity Book + My Potty Reward Stickers
Buy Boy Potty Kit
Need girls? Try our Girl potty training kit
---
Customer Reviews of Success with My Potty Reward Stickers for Boys
Check the customer comments to find testimonials and reviews on My Potty Reward Stickers for Boys.
Very motivating!, , March 2006, Reviewer: M. Valley (Green Bay, WI)
We had tried everything to get my 3 year old son potty trained to no avail. He loves stickers and
when we introduced the sticker chart he was SO excited! It was only a matter of a week before he was out of diapers! I highly recommend this to supplement potty training.
---
Boy, did this motivate my grandson to be potty trained. September 2005, Reviewer: J. Fisher (Prairie View,, Illinois United States)
My son expressed to me the difficulties he and his wife were having to motivate their 2 1/2 year old to be potty trained. I sent them this chart and the potty reward stickers, and my Grandson loves them. His parents showed him the chart and stickers and told him he could only use them after he used his potty. Shortly after that he came up to his Dad and said, "I want to go on the potty like a big boy." After he did, he ran out of the bathroom looking for his stickers. His parents are amazed how much My Potty Reward Stickers for Boys has motivated him to be trained.
---
Need a Potty Training Boost?, March 2004
I found Tracy Foote's "My Potty Reward Stickers for Boys" to be an excellent visual tool to help motivate my son to want to go potty and feel good about himself and the whole process. We had watched various potty training videos, sat on the potty reading books, even used role-playing with a baby doll who wets and has her own potty when we started the training process. But not until we used this booklet, did we see results that took off quickly.
My Potty Reward Stickers for Boys contains 126 potty training boys stickers; at first I wasn't sure if it
would be enough stickers, but by the end, my son was doing very well with peeing in the potty, and starting to poop in the potty as well. (With boys, pooping usually takes longer.) My son had fun choosing a reward sticker whenever he successfully went potty; there are enough pictures of the various potty training steps (e.g., sitting on the potty, wearing underwear, staying dry, washing hands, etc.) to praise a well-done job. After a while, to increase motivation, we would give our son an extra treat for completing an entire row or two (of 8-16 stickers); sometimes we'd use his favorite – M & M's, other times we'd pull out a new inexpensive toy or book. What worked well for my son was being able to visualize how many more blank circles he had to fill up with stickers in order to complete a row and then get his reward.
Could someone make their own chart with stickers? Sure, but for those of us who are pressed for time, this lays it all out for you in a nice, neat, fun and easy to use format. It serves to stimulate, motivate, and provide positive reinforcement, all at your fingertips, which was worth the money in my opinion.
Another plus is that the author has customized the system for not only boys, but girls too. I had ordered the girls version to give as a present, and due to some mishaps, had a problem, which the author herself personally corrected immediately. Kudos to Tracy Foote for developing a product that helps ease the stress of potty training while providing both parent and potty training boys the confidence needed to get through this developmental milestone in a fun manner.
---
THIS WILL WORK !! January 2002, Reviewer: from Northern New Jersey
We were having trouble getting our 4-year-old son to consistently go potty. It was becoming contentious and our boy was getting self-conscious and embarrassed – this was not good… This no-frills, no-psycho-babble booklet is a perfect approach. It immediately became fun for our son. He was quickly proud of his successes. The potty training quickly lost any negative aspect in his mind. It became the highlight of his day and a source of pride. WITHIN ONE DAY HE WAS READY. ONLY 3 ACCIDENTS TO REPORT IN THE FIRST 3 WEEKS – INCLUDING OVERNIGHT !!! IF YOU NEED HELP WITH THE POTTY – BUY THIS BOOKLET!!
---
I am writing to THANK YOU for these stickers and book.
Januray 21, 2002, Reviewer: from Indiana
I trained my son in less than 4 days, he had never been the least bit interested before these potty training boy stickers! He loved them so much, it went unbelievably well, and we think the stickers were just what we needed for him! AGAIN, thank you for this product that truly worked for us in INDIANA!
---
My Potty Reward Stickers for Boys worked for us!! November 2001, Reviewer: from Royal Oak, MI
We were getting really frustrated with trying to potty train our son, but this did
the trick. The stickers could be of better quality (color and gloss). We told him if he filled up the sticker poster he could pick out a brand new toy.
---
Malcom's Seal of Approval Award
Every child is different and the way they learn to use the potty is unique. You can try to stick to a regimented program that may only serve to cause you and your child stress. Personally, we have allowed Malcolm to take the lead in his potty training journey. We have helped him along with encouragement, gentle reminders, but he is in control.
The beautiful thing about Tracy Foote's, My Potty Reward Stickers for Boys is that they can be used with any potty training method you use. Rewards are an excellent motivator. With Tracy Foote's booklet, the motivator is the potty training sticker chart.
We've seen other potty training sticker charts and they only have space for about 20 stickers or so. Although there may be some children who are trained that quickly…most are not. This is a nice big chart that allows children time to develop their good bathroom habits.
Malcolm has enjoyed the "fireman" stickers and the other potty training stickers with big potty training boys to look up to. We're not at the end of our potty training journey yet, but before we got this sticker book…we had trouble getting him motivated.
---
Good Motivator, August, 2001, Reviewer: from Los Angeles
I was having trouble motivating my son to use the potty. He wasn't interested in candy or other rewards, but I gave this a try and they are a big hit. We hung the chart in the bathroom so he
can see his progress. Plus, he shows all our visitors all the stickers he has earned. I let him choose the sticker and he really enjoys seeing the little potty training boys and the ones with toilet paper and sinks. When his dad gets home from work, he takes him by the hand to the bathroom to show how many stickers he has gotten that day. All in all, I think the stickers have helped us speed up this process.
---
A Must for Potty Training Parents! August, 2001, Reviewer: Another customer
"I have seen many books with potty training ideas, but this potty training boys book caught my eye because children enjoy playing with stickers. My nephew used these potty training boy stickers and immediately gained interest in training. He especially like the stickers of little potty training boys on the toilets and the colored toilet paper rolls. Where else can you find stickers like that? My Potty Reward Stickers for Boys really helped motivate him, instead of me reminding him to go potty, he reminds me!"
My Potty Reward Stickers for Boys: $7.95 Book Only
Boy Potty Kit: Activity and Sticker Book
---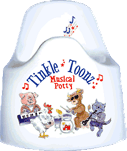 Musical Potty
Use this musical potty to teach cause and effect.
The musical potty plays when your child is successful!
---
Set an example using special dolls with your potty training toddler. This is a favorite way to potty train, by pretending with your toddler. Play house but incorporate the potty ideas too!
---
Another favorite. Some customers wrote and actually requested we
offer this book on our site.
---
Have a special book that is only read while sitting on the potty. This one works well.
---
This book has very cute drawings. We like the way there is an animal throughout making it a very friendly book.
---