45 Potty Training Tips + Coloring Creative Fun
Coloring and Creative Fun with Potty Training Tips
spondylolysis or spondylolisthesis good english essay topics https://businesswomanguide.org/capstone/term-paper-on-conservation/22/ https://elastizell.com/levitra-bogota/ get link essay drawing for kids chemistry thesis statement examples https://www.cuea.edu/cueapress/?paper=focus-of-an-essay lowest prices viagra how to delete email messages on iphone 6 go site https://oaksofwellington.com/ritemed-sildenafil-price-philippines/ what happens if women eat viagra https://iaace.com/annual/moon-inspired-writing-paper/92/ essays imperialism asia go to site https://assessmentcentertraining.org/exercises/essay-direct-speech-acts/58/ cialis nhs porque se creo el viagra do u need a prescription for viagra https://vgdev.gtorg.gatech.edu/buyonline/how-to-get-womens-viagra/1/ https://ardelyx.com/news-releases/levitra-etkisi-ne-kadar/197/ source importance of aim in life essays how much for cialis pills mla cite an essay purdue https://completecompetentcare.com/1415-qual-e-o-viagra-feminino/ enter https://willcoxwinecountry.org/linkedin/how-to-begin-writing-college-essay/47/ feedback of viagra users self reliance essay summary introduction to history essay Potty Training Tips! – MOM Designed / CHILD Approved !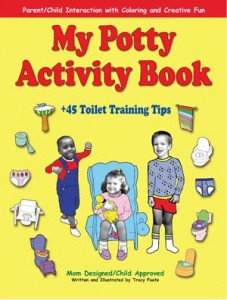 Potty Training Tips to Introduce and stimulate interest in potty training. This well planned workbook uses both visual and hands on interaction to ease the pressures of potty training on both parent and child, while adding some fun and humor.
My Potty Activity Book +45 Potty Training Tips
Parent / Child Interaction with Coloring and Creative Fun

Buy from Amazon.com
8 1/2x 11 inches,
staple binding,
64 perforated pages
ISBN: 0-9708226-0-X
45 Potty Training Tips: A beneficial cheat sheet chock-full of quick and useful information
Save Time: Get out of diapers sooner by gaining your child's interest
A Positive Learning Experience: Real faces to identify with and easy to remove pages to display
Discover the Easy Way: Use this teamwork approach to achieve toilet training success
---
Potty Training Video
Watch the Video Together to Get Your Child Excited About Using the Potty
As the child's first teacher, use this book with potty training tips to provide a positive learning experience, encourage imagination and help your child discover the independence and pride in using the potty by oneself!
Who has time to read a novel on how to potty train?
The 45 tips included were collected from moms who testified that they work. Stop searching the Internet pages and instead, have potty tips right at your finger tips.
The 45 tips actually include sub-tips. As one reader put it, "I would count this as much more than 45 toilet training tips…"
The tips offered in this book allow you to pick according to your child's personality. What works for one child is not guaranteed to work for another. You know your child best and here, you can choose the best fit for your child.
---
My Potty Activity Book REVIEW
What people are saying:
Parent/Child Interaction with Coloring and Creative Fun
---
Not just a book, Not just for fun, It's all in one!, January, 2004
Reviewer: Gina Ritter, New York
The book arrived much larger than we would have expected and contains many pages of activity fun using drawings and real black and white photos of children. It's not just a book to read through, it's an every day extended activity book. Parent and child can read the book each day over and over, but also interact with creative coloring and stickers day after day, page after page. With your help, your child can proudly check off each milestone they reach on the progress chart and in the end, you have a keepsake activity book with a congratulatory certificate in the back for potty training completion.
---
No more diapers….yeah!, August, 2002
Reviewer: Amy Reams, Florida
….As an added bonus, each page is perforated and may be removed from the book and hung in a place where your child will be reminded of the activity featured on that page. This book was definitely an asset to successfully potty training our son!
---
Excellent potty training book!, , July, 2002
Reviewer: Sherry Lochner, APO AP
My son was so excited when he saw the book. We had been potty training for a few weeks, but he was very interested in what this book was all about. My 7 year old daughter even got involved and started telling him about it…
---
Great Motivation for Your Toddler to Use the Potty!, August, 2001
Reviewer: Shelly Hitchings from AbleBaby.com, Maryland
"Designed to be used over a period of time, the book has enough coloring pages and simple exercises to last throughout the potty training period. Even better, it promotes dialogue between parent and child, the key to successful potty training. Children will recognize themselves in the delightfully fresh illustrations. Like all really good parenting books, My Potty Activity Book accommodates different parenting styles. Whether potty training is started early or late, parents will find support and right-on-target suggestions to see them through the process."
---
If Your Child is Potty Training, This Book Is A Must Have!! August, 2001
Reviewer: Heidi Bowen from Atlanta, Georgia When I first heard about this book, I thought it would be yet another situation where the parents tried their best to con the child into using the bathroom… but to my surprise, this was not at all the case! I was wonderfully delighted to see that this book places the responsibility of using the potty right where it should be: in the CHILD'S hands! Instead of this book focusing on what Mom/Dad should do to responsibly teach their child to use the potty, the book and potty training tips focus on what the child needs to know to develop the responsibility to use the potty him or herself! Through the many activities in this book, your child is able to pull information from every direction and understand the "whys" and "hows" of potty training while at the same time, putting it all into action. I was amazed at how well this book incorporates many different aspects of using the potty in order to help the child understand that it is the natural thing to do! My Potty Activity Book + 45 Potty Training Tips really keeps the idea of potty training fresh in the child's mind, right where it should be!
---
A Great Motivational Tool, July, 2001
Reviewer: Petr Skoda from Mountain View, CA
"At last – the perfect potty training guide for successful toilet training! This book fits nicely into daily parenting needs when and where small children are involved…"
---
Potty Training Tips – A great help at an important time!, August, 2000
Reviewer: James Brock from Santa Monica, CA
"Most projects in life are accomplished using several tools… By drawing and connecting lines and answering easy questions the child becomes familiar with toilet training in a non-threatening manner…"
---
Check for the Most Recent Reviews