Potty Training Party Supplies
|
Potty Party Kit
Choose your kit for boys or girls: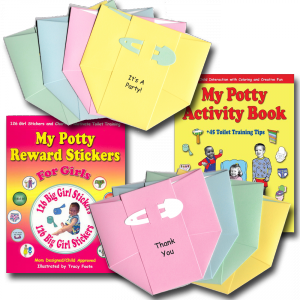 Description
Make potty training a little more fun using this complete Potty Party Kit!
Included in the supply pack is:
• My Potty Activity Book
• My Potty Reward Stickers
• 8 Diecut Diaper Invitations in multi-colors with envelopes
• 8 Diecut Diaper Thank You Notes in multi-colors with envelopes
Use this no-pressure, non-intensive potty training approach to make toilet training a fun experience. Begin gaining your child's interest by using the activity book and coloring pages together. Next, introduce the reward chart with a sticker achieved for each goal you set. When your child is progressing along well, introduce the Potty Party Diaper Invitations as a final motivation boost. After your celebration, there is no "party-let-down" because you get to send out the fun colorful Diaper Thank You Notes to all who attended! Click below purchase now.
[leadplayer_vid id="554A357D51510″]