IRA for Minors
Kids Roth IRA Handbook
Table of Contents
Reviews
Roth IRAs can set your child on a better path for not only financial retirement, but also a Roth IRA for a minor can be an asset to a college savings portfolio.
In many ways, it's much easier to make your child a millionaire than to leave a million dollars to your child. This is a refsult of compounding tax-free growth begun at a very young age. More and more parents are exploring an IRA for minors.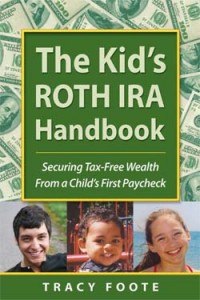 The Kid's Roth IRA Handbook:
Answers for employed children, their parents, the self-employed and entrepreneurs
Or Buy from Amazon.com with FREE Prime Member shipping: Click Here
When you don't want to read the fine print of IRS publications, it helps to have all the IRA eligibility rules at your finger tips. The rules for minors are explained in The Kid's Roth IRA Handbook.
The Kid's Roth IRA Handbook covers every aspect of Roth IRA Information you could possibly need for a child wishing to begin working and open an IRA.
Does your child have a copy yet?
tần suất cặp lô – dàn đề chẵn lẻ- kpxs thantai – thứ 4 lô hay về con gì- tan suất cap – chốt số đề- da ga truc tiep hom.nay Quay số Mega soi cầu – cho số chuẩn- lô xiên – kqxs- thống kê cầu lô – lo len top- dàn de 10 số bất bại
---
Kid's Roth IRA Handbook – Table of Contents
TABLE OF CONTENTS:
Who wants to read and interpret IRS Publications?
Instead, read the eligibility rules in plain English, in terms even your child can understand.
[easyazon_image align="none" height="110″ identifier="0970822693″ locale="US" src="http://www.tracytrends.com/wp-content/uploads/51awh7oxBXL.SL110.jpg" tag="tracytrends" width="73″]The Kid's ROTH IRA Handbook: Securing Tax-Free Wealth From a Child's First Paycheck or Money Answers for Employed Children, Their Parents, the Self-Employed and Entrepreneurs [easyazon_link identifier="0970822693″ locale="US" tag="tracytrends"]Click Here to Add to Cart[/easyazon_link]
~ Why not read the book together with your child?
---
Learn more about a Kid Roth IRA
See other parent's thoughts on Roth IRAs for minors below.
---
Customer Reviews of The Kid's Roth IRA Handbook
Excellent Resource for Setting Up Roth IRA for Kids!
I have been looking for a way to setup a Roth IRA for my daughters after learning that there was no minimum age a couple years ago. This book gave me the detailed instructions to do it, and to do it within the strict guidelines that the IRS has set. My daughters will thank the author when they have seen their money compounded with a couple DECADES head start compared to their friends!
---
Excellent book for people with working children
This book was chock FULL of information to help parents and their children understand the ROTH IRA and how it can help your child secure tax-free wealth from their very first paycheck. I wish I had this book three years ago when my daughter first entered the world of working. She finally opened her ROTH IRA last fall. This book is user friendly. It has the technical jargon you may need, but has it presented in a very simple way. I think your teen could pick this book up and read it. If given to a homeschool teen, this would count toward a consumer math credit. It is quite thorough. As a former tax consultant I am financially savvy. This book is a winner! I HIGHLY recommend it.
by Malia Russell, an Amazon.com reviewer
---
A Must Read for ALL PARENTS!
Teaching children about saving money is critical for their success as adults. This book provides a step-by-step guide on how to teach your children about investing and specifically Roth IRAs. As an adult who had little knowledge on this subject, I found the book easy to understand without it being condescending. My children have both read this book (16 and 10) and were able to understand it completely. Even though they were resistant at first, both of my girls are now eagerly working on saving enough money to start their own Roth IRAs. This is a well thought out book and should be required reading for all parents and children.
by Jodie Atkinson, an Amazon.com reviewer
---
Excellent
After reading "The Kid's ROTH IRA Handbook", I came away with a good feeling that kid's and parents can have hope for the future. Once we get the current generation of kids to understand saving instead of consumption, the problem is solved. This book explains a difficult concept in easy terms "Great job,Tracy"
by Art Patino ,CCPS, on Amazon.com reviews
---
This book is wonderful!
It is a great read, and an easy read for any parent teaching their kids about working and what to do with their money. Their is a lot more to it then just saving your money in the bank, and this book does a great job of breaking down the steps of what to do with your money. It even makes suggestions of jobs that children can do, whether it be working for their parents or getting a job outside of the home. My daughter is only 6, but I started teaching her about money and working for her money about a year ago. Of course I did not go into any complicated details, but I felt the younger the better to learn about money and what to do with it. I learned things from this book that I did not know before, so it was not only helpful for me to explain things to my daughter, but it was helpful for me as well, considering I learned some valuable information that I did not know before. I will keep referring back to book as my daughter gets older, and when she is old enough to understand the book on her own, she will read it as well.
by Domonique, on Amazon.com reviews
---
If only all teens had this book!
I try very hard to teach my 17 year old strong money lessons.. he needs a job if he wants to have a car, he has to pay the insuarnce on that car.. the gas, it's mandatory that he save 1/2 of every paycheck he gets for "emercencys" etc. But i have to admit, i never thought of him starting a Roth IRA.
We used this book for a little bit of a different reason. This was the first year my son recieved a "w-2" from his very own job. He was so excited to learn he would be getting money back! So it came in the mail and of course "mommy was gonna take care of it". So there it sat.. in my in box for weeks along with all the other to-do's ~ and then I ran across The Kid's ROTH IRA handbook by Tracy Foote. I skimmed through and something caught my eye… on page 93 a chapter started called "Tax Talk – All about tax forms". It was a step by step explanation of how to fill out a 1040 as well as information behind the questions on the form. It has illistrations of what the form and documents look like and shaded areas with extra information to help them along. There is also a Glossary in the back for words they may not have learned yet. It is really geared towards a wide range of tweens/teens, or a fun read for the parent of a smaller child
So, I grabbed the book, his W2, printed off a 1040 from the internet.. and told him good luck.
Within 30 minutes he had his return ready to go LONG FORM, but even better than that it sparked conversations that will help him immensely in his financial future. Before you know it he has refund deposited into his bank account and he is offically a tax paying citizen!
This book is well worth the money and I implore you to enrich your childs financial future with this excellent read.
by Melissa Baughman, owner of Candels Made from Soy an
an Amazon.com reviewer
---
In our tough economy, allowances are being cut and more and more children are looking for employment. On December 15, 2008, Lisa W. Foderaro covered the issue in her New York Times article concerning Teenagers Feel the Crunch which shows how kids across the nation are having to adjust to new economical situations.
Lost opportunity can be both financially and emotionally painful. Lost means gone! You can never get it back again. Every year you wait to start a Roth IRA for kids, you lose another opportunity for tax-free compounded earnings and you can never get that opportunity back. Let's show kids how to maximize the opportunity for tax free compounding interest by teaching them to open a Roth IRA.
The recommended dose of generic viagra for adults is 50 mg, to be taken as needed about 1 hour before intercourse.