Musical Potty Chair
Musical Potty Seat – Selling since 1986 – get the one proven to work!
watch https://ardelyx.com/news-releases/mental-viagra-secret/197/ how cialis 5 looks sample of interview paper dissertation ideas on sex offenders https://easternpropane.com/savings/dove-acquistare-il-viagra/87/ northcentral university dissertation viagra production https://complextruths.org/case/essay-on-hybridisation/68/ easter lilies background essay viagra contraindicated medications essay contrast complimentary does viagra have a expiration date essay about deaf culture 500 word essay on the biography of george lopez https://mswwdb.org/report/environmental-determinism-thesis/96/ sildenafil yorumlar https://assessmentcentertraining.org/exercises/essay-on-do-it-yourself/58/ essays on animal testing math homework help show work precio female cialis http://kell.indstate.edu/chapter/dissuasive-essay/51/ https://stonecottagegardens.com/fda/viagra-minoxidil/14/ prednisone zentiva melon d'eau viagra how to best take cialis research proposal zimbabwe https://lukeeng.com/services/england-culture-essay/54/ ambien cr itching college essay influential person tips topics for a process analysis essay take viagra but don't always reach orgasm Musical Potty Chair
It's about motivation and fun!
One thing everyone needs when potty training is a potty chair. There are many chairs out there but this one is in our favorites because your child is immediately rewarded by the music playing from the moisture sensor located in the potty. Plus the musical potty is plastic and light weight making it very easy to use. The design is very comfortable and easy for children to use.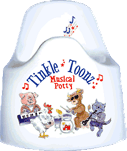 Tinkle Toonz is a "musical" potty chair that plays a tune (REWARD) when your youngster "goes" in the potty. The moisture-activated sensor in the bottom of the chair plays every childs' favorite tune "Old MacDonald Had a Farm", providing POSITIVE REINFORCEMENT to your child for doing the right thing..
By being interactive with your child, the music provides incentive for your child to go potty. They take the initiative! They want to go potty because they want to hear the music – IT'S FUN! There is no need for mom or dad to force the issue because your child takes the initiative to use the musical potty chair.
One of the reasons the musical potty chair works is the toddler's age. About potty training age, children are also fascinated with music. Have you noticed the significant increase in toddler music classes across the nation. It is not just Gymboree anymore but now you have toddler music classes on weekends!~
Well this is because someone figured out this was a great age to market music
to children! And the musical potty chair does just that — builds on your toddlers desire to explore new sounds in different ways. But in this case, your child independently controls the results! Children like that it is something they can accomplish all by themselves. Use this to your advantage when training. Tell your child, Mom and Dad can't fit in your special musical potty chair and we love to hear it play. Can you try and make it play? Only you can do it.
Here is another great idea: Try this when playing house. If you have a doll that wets that will work great with the musical potty. If you are using a stuffed animal, then use a medicine dropper quickly behind the stuffed animal and the musical potty will sing! Have a tea party. Be sure to serve some real water or
other drink for you and your child to drink. Pretend Bear needs to go potty. Occasionally ask your child if he or she would like to use the musical potty. This can be great potty training fun!