George Bush – John Kerry 2004 Election Ornament
|
George Bush Gifts
Political Gifts Campaign 2004
Presidential Election 2004 Swing State Ornament
Gift Box Included.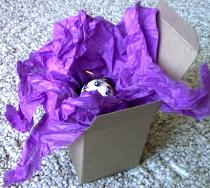 Political Gifts Campaign 2004
The Swing States or Battleground States also referred to as the Purple States (because mixing red and blue makes purple)
are those states which can "swing" either way to tip the final election toward Republicans or Democrats.
Our gift ornament this year, recoginizes the "swing state" by showing John Kerry and George W. Bush tossing the Presidential
seal in the air awaiting the final presidentail election outcome.
In addition: the traditional Democrat Donkey swings in the left swing VS the Republican Elephant joyfully swinging on the right!
Ultimately, it comes down to you — to "Get out and Vote"!
The Swing State Presidential Election 2004 Ornament includes:
Side 1 of Bush gift ornament:
(George W. Bush and John Kerry have a blanket toss with the presidential seal.)
George W. Bush and John Kerry "2004 Toss-up" Banner
Presidential Seal being tossed in the air
Side 2 of Bush gift ornament
Red "Swing States Count" Banner
Swings with Democrat Donkey and Republican Elephant
Blue "Get Out and Vote" Banner
We show 2 bush gift ornaments below so you can see different views.
**String color, bead color and exact positions of images may vary**

We used the "swing state" presidential election idea to create our christmas remembrance ornament for 2004.
If you are looking for an unusual christmas political gift for a democrat or replublican, this fun cartoon type ornament
will surely create some conversation.
2004 John Kerry vs George A. Bush Swing State Ornament
After much reading, it seems no one actually agrees on the "swing states" for the 2004 presidential election.
Swing states were given the term for being able to swing either way for the democrat or republican party. They are also referred
to as "battleground states", "purple states" (the mixing of a red and blue state) or "toss-up" states.
The Washington post defers to previous elections claiming the states
within 3% points are now the swing states for the following election.
It seems too that the candidate who wins Ohio usually wins the presidency. Then,
there is also talk about John Edward's charisma for vice president possibly brining his home state of North Carolina into play for the 2004 presidential election.
Nevertheless, the swing states everyone is currently talking about are: Arizona, Colorado, Florida, Iowa, Louisiana, Maine, Michigan,
Minnesota, Missouri, Nevada, New Hampshire, New Jersey, New Mexico, Oregon, Ohio, Pennsylvania, Tennessee, Washington, Wisconsin,
West Virginia.