Subway Series Christmas Ornament
|
2000 Subway Series Baseball Christmas Ornament
New York Yankees vs NY Mets Gift
Gift Box Included.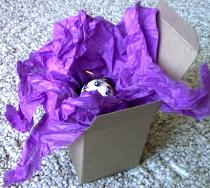 Remembering Baseball History…
Highlighting the New York Subway Series! A unique baseball christmas ornament, marking the memorable time between the Mets and Yankees, with logos etc, very cute!The year 2000 is also on it – mark the millenium! The metalic thread and beads add a christmas touch. Very light weight, handmade hollow egg ornament!
Sample hand-made 2000 Subway Series Baseball christmas ornament: Bead colors, string and exact positions of images may vary slightly.