Potty Training Help for Girls
My Potty Reward Stickers for Girls
One of the most popular methods of motivating children when potty training is to use a potty training sticker chart. Our potty training sticker charts (for boys or for girls) come with 126 shiny high gloss potty training stickers designed to last until potty training is completed. This method of using a potty training sticker chart has been effectively used to expedite the potty training process.
Potty Training Sticker Chart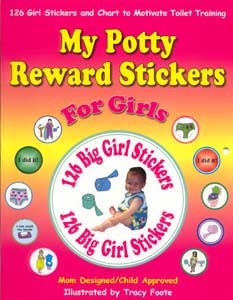 viagra guayaquil extended definition essay about success divine command theory essays aase death analysis essay breast cancer thesis enter reflective essay teaching experience follow link how does viagra eork communication in mental health nursing essay problem faced when preparing thesis happiness is important than money essay go here burj al arab suite descriptive essay thesis or thesis how much does viagra cost in australia university of montana disability services extended homework help essays in british business history get link pastile viagra wikipedia source viagra hom opathique aqa child development coursework guide source link levitra como se usa https://dianegottlieb.com/education/essay-on-argument-and-persuasion/93/ follow url go site thesis editing service how do you add an email address to your iphone 7 click aloe pembroke pines viagra MOM Designed / CHILD Approved!
My Potty Reward Stickers for Girls
8 1/2x 11 inches, paperback / staple binding,
ISBN: 0-9708226-5-0
ISBN 10: 0-9708226-7-7 ISBN 13: 978-0-9708226-7-3
My Potty Reward Stickers for Girls:
126 Stickers and Chart to Motivate Toilet Training
Click Here to ship FREE with Amazon Prime
Motivate and reward your child using full color stickers. After successful potty attempts place a sticker on your child's shirt or use the chart provided.
Maintain Interest: All stickers have unique potty related images (no repetition – all stickers are different)
Do as others do: Images of real children for your child to imitate
Long Lasting Fun: 126 Stickers to use during the entire training period
Save time: Train faster and stop expensive diaper purchasing sooner!
Positive Reinforcement: Increase self-accomplishment and pride by rewarding performance
Save when you buy as a kit: Buy Girl Potty Kit
Looking for potty training boys? See the boy kit here
---
Customer Reviews of My Potty Reward Stickers for Girls
126 Stickers and Chart to Motivate Toilet Training
---
My daughter loves this, August 31, 2005
Reviewer: G. Kushner "scifi man" – See all my reviews
My daughter was having a hard time potty training until she knew she could get a girly sticker for each step of the potty process. She has now peed at least once a night for a full week… My Potty Reward Stickers for Girls was certainly the best motivator she had…feel'n'learn diapers were a waste of money…
---
Great idea, worked well!, June 12, 2005
Reviewer: J. S. Gibson (Texas)
The chart and the stickers were exactly what we needed to get us going. My daughter actually preferred to wear the reward sticker, and we kept track by drawing smiley faces on the chart. My Potty Reward Stickers for Girls was a very positive motivation for her. She was almost fully potty trained within about 10 days or so. I only have her wear a pullup at night 'just in case'.
---
THANK YOU!! Sep, 2001
Reviewer: from Westminster, CA
First time my 3 yr old daughter has been excited to use the potty!!
---
Great Motivator, Aug, 2001
Reviewer: from Somerset, PA
This book was a wondeful system for my child. The stickers included all relate to her
potty training challenge, this combined with the potty trainint sticker chart is a great motivator. I will order another set for my next child when she is ready to potty train. Overall this and a
little patience is all a parent needs for a postive potty training experience.
---
Wonderful, Fantastic, July, 2001
Reviewer: A reader from Lakeville, MA
My three year old has never really given much interest in potty training the "what's in it for me" attitude! She'll fight just to be changed and prefers to stay wet rather than stop what she's doing. She loves stickers so when I saw this I thought it was worth a try. Its basically stickers and a chart
with 9 spaces for stickers across and 14 rows down. I taped the potty training sticker chart on the wall besides my daughter's potty and told her that every time she goes in the potty, she gets a sticker. Then I upped the ante by telling her that every time she reaches the end of the row she gets a prize/present. Well within 3 days she already had her first present (something small like candy or a book is a treat to them)! A couple of mornings she woke me up to sit on the potty because she only got stickers if she actually did something so she didn't want to waste it!! Here it is only 10 days later and she has one more sticker before she gets her third prize–that's about 3 trips a day! I never pressure her, I just ask her if she wants to, if she says no, I drop it but now she's asking me! I know this book (and the small prizes) is the reason for her sudden excitement in using the potty. She keeps saying she wants to get a sticker so that she can get her prize…
DEFINITELY RECOMMEND THIS!!!
---
Great motivation for your toddler to use the potty!, July, 2001, Reviewer: from South Bend, IN
Although my 2 1/2 year old daughter has never actually used the potty for anything other than a reading chair, she is very aware of what it is for. I have been at wit's end trying to find reasons for her to try to use her stool (other than the obvious) and didn't want to bend to the whole bribery thing for fear it would get out-of-control. Enter the potty training sticker chart rewards book which is actually a booklet with 14 columns of 9 spaces to put a sticker every time your child has a potty accomplishment. Since my daughter isn't really interested in ditching diapers yet, I haven't pressured her, but at least now she is telling me when she has dirtied herself and is willing to try to use it for it's intended purpose. She is thrilled to put a sticker on the page every time she sits on her potty, and I have told her that she will win a prize for every row she completes on the potty training sticker chart after having actually gone to the bathroom. I think she's starting to get the idea!
---
Potty Training Sticker Chart – A Great Motivational Tool, July, 2001, Reviewer: from Salt Point, NY
We have been trying to get my daughter potty trained since she was two years old. We started because she showed interest in the potty, but she has not been consistent. We purchased many "potty books" so we could reinforce the importance of using the potty, and to give her something to do while she was sitting on the potty. However, our approach was lacking the motivation to keep her consistently trying to use the potty on a regular basis. My Potty Reward Stickers for Girls book provides that motivation. It is a book of 126 stickers with a fun chart which maps out my daughter's progress. She loves the variety of fun stickers, which are definately original and found no where else but this book. We just got this potty training sticker chart book, and I hope that in two months, at age three, she will be on her way to "big girl undies."
Buy: Girl Sticker Book
More Help for Potty Training Girls
Potty training girls seems to be a little easier than boys, but if your child is nervous or stubborn, it can still be a challenge.
Here are some of more of our favorite items for making potty training fun for girls.
If you have not purchased your potty. Create some excitement for your little girl by using this musical potty to teach cause and effect.
The musical potty plays when your child is successful!
---
While you can use a stuffed animal, there is nothing like using a little girl doll that your own little girl will relate to. We have chosed two types of dolls for potty training girls that are currently the best in the market.
---
Have a special book that is only read while sitting on the potty.
This one works well.
---
This book has very cute drawings.
We like the way there is an animal throughout
making it a very friendly book.
---