Dale Earnhardt Sr Tribute Ornament
|
Dale Earnhardt Sr Collectable Nascar Items
Dale Earnhardt Sr Tribute Memorabilia Unofficial
Dale Earnhardt Sr Tribute Ornament
| | |
| --- | --- |
| | Gift Box Included. |
Celebrating Dale Earnhardt Sr at Christmas time…

and every day of the year!
Here in North Carolina,

our children count, "One, Two, Earnhart, Four…"

…as Earnhardt is equivalent to "Three" . . .
Celebrate Dale Earnhardt Sr and this historical year of NASCAR racing with this very light weight, handmade hollow egg ornament!
Side 1:
"Talk To Us, DALE!"
called from the pit when the crash occurred.
Florida with Daytona 500 Feb 18, 2001 the date it all happened
No. 3, a car and checker flag
it's all about racing!
Legend Lost in Turn 4
Dale Earnhardt Sr was the second to be killed at this turn on Daytona Speedway (Neil Bonnet was first in 1994)
Side 2:
INTIMIDATOR
for his furious ruthless driving style
# 3 with checker flag border
for Dale's No. 3 Chevy Monte Carlo
Dale Earnhardt Sr.
instilling a passion for stock car racing in all of us
US Flag and 1951
for the US sports hero and the year he was born
North Carolina State Flag and 2001
his home state and year he died
We show 2 Dale Earnhardt Sr collectable items below so you can see different views.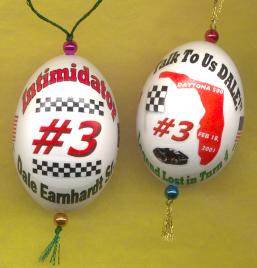 Different views of one ornament
We created this ornament when we lived in North Carolina where we attended the race following the Florida incident and were impressed by all the
Dale Earnhardt Sr racecar fans. All our collectible memorabilia ornaments have a remembrance theme to remember great people, images etc. that represent pride in America.