Military Iraq War Christmas Ornament
|
Christmas Gift Idea for Military
Gifts for Soldiers Deployed in Iraq
"I don't have bad days anymore, because compared to that,
…there is no such thing." — Specialist James Grubb
in reference to the March 23 attack in Nasiriya.
Similar thoughts are shared by other servicemen in reference to their experience in the heat, dust and combat in Iraq…
Comments like this may make us think twice about our own "bad days"…
Try our military gift idea:
Each yellow ribbon ornament could be a gift for a soldier deployed in iraq or a family relative. The yellow ribbon ornament comes with a small card that says:
"Please know and always remember there is a Silent America out here, people too busy to write or call but who continue to be grateful for the sacrifice you are all making. We pray for all of the injured, for those who have died and for all of the soldiers still serving around the world to make our country safe and free."

— CJF (excerpt from civilian letter to wounded American soldier)

Gift Box Included.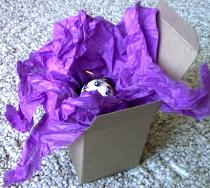 "

Honor

Those

Who Serve

"Recognizing the contributions
of our military service men and women.
Looking for a Christmas military gift idea? Try this unusual remembrance ornament dated with the year the military Iraq War began.
Many of my relatives call or email each other, almost daily with the count of how many were injured or killed in the last 24 hours.
We need to emphasize that while we are taking care of our daily responsibilities at home, the military are still constantly
in our minds and prayers. Servicemen should know how much we care.Christmas Military Gift Idea:The

Operation

Iraqi

Freedom


handmade hollow egg ornament includes:Side 1
Words "Operation Iraqi Freedom, 2003" (the year the war started)
Map of Iraq
Words "Destination Baghdad"
NOT SHOWN – on the sides – United States Flag and Flag of Iraq.
Side 2
Words "Army, Navy, Air Force, Marines"
Lighted candle
Green Banner "Honor Those Who Serve"
Wreath with "Come Home Safe" Yellow Ribbon
We show 2 Christmas Gift Idea ornaments below so you can see different views.
**String color, bead color and exact positions of images may vary**


You may also be interested in these for a Christmas Gift Idea:




Funny Anti Bush Joke Ornament
Countdown to 20 Jan 2009



George Bush Gifts
2004 Swing State Ornament
Election vs John Kerry


George Bush Christmas OrnamentDecision 2000 Election
vs Al Gore – Collectible Ornament

Political Gift:
Operation Enduring Freedom Christmas Ornament