Crocodile Alligator Towel
|
Hooded Towel for Bath, Beach, or Pool
Handmade High Quality 100% cotton green terrycloth crocodile towel!
Our machine washable alligator hooded towel (or crocodile towel) is sure to delight with his long nose and scary teeth.
Green toddler alligaor hooded towel is great for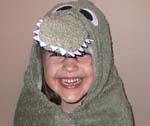 the bath
the beach
the pool
the boat
baby shower gift
---
Large Alligator Hooded Towel:
27″ x 52″
This size green alligator towel is recommended for toddlers (walking children) and kids up to 10 years old.
However, the towel itself is an adult size bath towel, so there is plenty of towel to dry off on.
We have had life guards purchase them for fun to use at the beach or pool!

If our crocodile towel is too scary for your child, check out our huge assortment of hooded toddler bath towels below. Each hooded bath towel is 100% cotton terry
cloth to keep your child warm and comes professionally folded with the head peeking out on top, tied with a bow, sure to delight any toddler when receiving it as
a gift.
---
Or – Choose a different Hooded Towel
---