Dinosaur Beach Towel
Towel For Pool, Boat, Beach, or Bath
Handmade High Quality – 100% cotton terrycloth dinosaur hooded beach towel!
Let's give a little roar in this wonderful green hooded beach towel with dinosaur spikes trailing down the back. Great gift for a true dinosaur fan.
Customers use our dinosaur hooded beach towel for: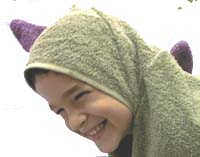 the bath
the beach
the pool
the boat
baby shower gift
Large Hooded Dinosaur Towel:
Large 27″ x 52″
This size dinosaur hooded beach towel is recommended for toddlers (walking children) and older.
The dinosaur towel itself is an adult size bath towel, so there is plenty of fluffy towel to dry off and keep warm.
We have had life guards purchase them for fun to use at the beach or pool!


---
Large Hooded Dinosaur Towel + Little Encyclopedia of Dinosaurs:
Large Dinosaur Towel 27″ x 52″ + Book (Dimensions: 6.8 x 5.2 x 0.5 inches; 64 pages)


While supplies last, we are have the LARGE dinosaur towel paired along with The Little Encyclopedia of Dinosaurs!
This is a fact-packed book which introduces over 120,000 years of history to young children. Beginning with the time when dinosaurs ruled the world and ending with the Second World War, the simple text covers traditional curriculum-based subjects such as the Romans, Tudor England and the Victorians. Also included are subjects which are not so widely taught but are nonetheless fascinating, such as the French Revolution, Ming China and life under the Tsars of Russia. It is illustrated with a combination of full colour illustrations and photographs. It is Internet-linked to help readers build on their knowledge by accessing over 100 relevant websites.
Duck Hooded Towel ~ 100% Cotton yellow duck hooded towel. High quality lasts for years. Great for toddler to adult. Used by lifeguards for bath, beach, pool
---
Or – Choose a different Hooded Towel
---