Pig Towel
Pig Bath Towel
Like Wilbur the Pig from Charlotte's Web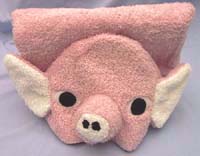 Handmade High Quality 100% cotton terrycloth towel!
This size is recommended for toddlers (walking children) and kids up to 10 years old. However, the towel itself is an adult size bath towel, so there is plenty of towel to dry off on. We have had life guards purchase them for fun to use at the beach or pool!
This towel is great for
the bath
the beach
the pool
the boat
baby shower gift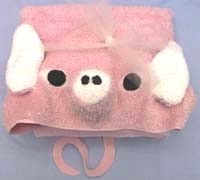 Large Pink Pig Hooded Towel: 27″ x 52″
---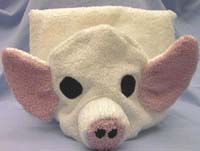 Large White Pig Hooded Towel: 27″ x 52″
Our white pig towel is even more like Wilbur the Pig from Charlotte's Web. The ears are a little larger and the nose just a teeny bit longer. With the new Charlotte's Web movie coming out around December 2006, this towel is sure to delight all ages of children who are Wilbur the Pig fans! Children who previewed this pig towel in the design phase could not stop laughing and claiming how cute they are!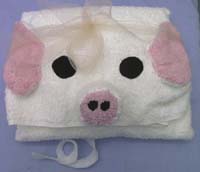 ---
Or – Choose a different Hooded Towel
---