Dragon Towel
Dragon Beach Towel
Kids Hooded Beach Towel - Dragon Towels
Handmade High Quality 100% cotton blue terrycloth kids hooded beach towel!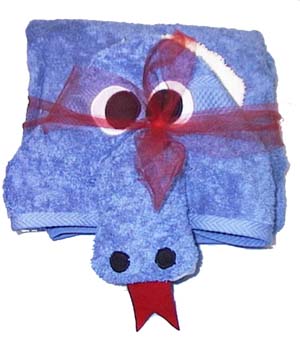 Great dragon towel For
the bath
the beach
the pool
the boat
baby shower gift
toddler gift
---
Dragon Towel: like Saphira the Dragon character in the book Eragon:
27" x 52"

Our kids are great Eragon fans for many reasons. We love the story, the dragon, the elves, etc. but are also big fans of self-publishers, since we also have one in the family. The book is a great example of what one can do when you set your mind to it.

Well, we already had the green and lilac dragon towels (see below) on line so we thought, why not create a blue dragon hooded towel? If you are looking for a Saphira toy, this blue hooded dragon towel could be Saphira or just a blue dragon if your child loves blue and mythology.

This blue dragon towel is recommended for toddlers (walking children) and older kids. The dragon beach towel can also be great fun for lifeguards. The dragon towel is blue terry cloth with white spikes down the back. The towel itself is an adult premium size bath towel, so there is plenty of towel to dry off on and keep warm.

If our hooded dragon beach towel is too scary for your child, check out our huge assortment of kid hooded beach towels below. Each beach towel is 100% cotton terry cloth to keep your child warm and comes professionally folded tied with a bow with the eyes peeking out on top, sure to delight any kid receiving it as a gift.
---


Toddler Hooded Towel - Green or Lavender or Blue Dragon Towels with Spikes!